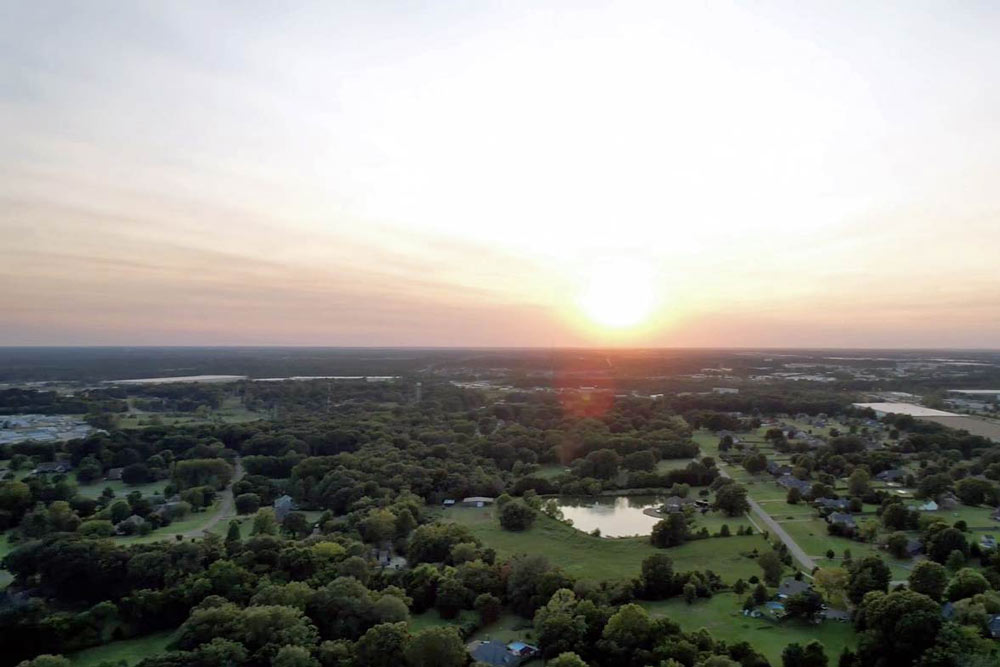 When it comes to video services, quality isn't measured by a videographer's ability to use a camera. High end producers know how to plan, think outside the box, manage people and place them in proper settings in order to communicate something. With that said, I thought it would be a good idea to identify a handful of Memphis locations to eventually shoot video at.
Some my clients know where they want to shoot and how they want to go about things. Others need a little direction. This is why I like to be prepared with a list of local spots and landmarks that present people with options. Scoping out some of these places gave me some really good production ideas that I hope to be able to use some day.
1. Memphis Central Station.
One of the Memphis locations I'm most eager to shoot video at is definitely the City's Central Station. After driving by a few months back, I immediately thought of Union Station in Indianapolis, where I grew up. It was right next to City Market and we loved going there as kids. The old bricks, signage and rich history of so many travelers definitely appeals to me.
The variety of spaces, indoor and out, present endless perspectives and auras. A packed lobby would be great for a busy scene, traveling focus or even general B-roll footage. An empty building would bode well for presenters, artists or intimate settings. Nearly every square foot of the Memphis Central Station can be purposed for some sort of theme.
2. The Crystal Shrine Grotto.
I'm not sure if I'd have to garner approval to shoot video at the cemetery, but I'm definitely looking forward to capturing this Memphis landmark! In my opinion, video content here would suit nearly any type of personality or business. It's sprinkled with tranquil settings and offers unique, but highly recognizable backgrounds (that tend to perform better than standard studio productions).
Getting out, walking around, and showing you're in the community is a great way to engage people online. The days of talking heads and basic content are gone. You have to find ways to think outside of the box. Needless to say, the changes of scenery and backdrops at the Crystal Shrine Grotto would provide me with a ton of options.  
The hollowed trees, hedges, pathways, bridges and colorful vegetation tell more of a story than the remaining Memphis locations. The landscape I appreciate most is definitely the stone structures by the water. I can think of a number of ways to involve the hand craftsmanship, shadows and reflections. Hopefully, I'll be able to get my drone in there. I don't see many aerial photos online. 
3. Wolf River Greenway.
Not many residents in the surrounding areas appreciate the little green pockets of Memphis. When we first moved to Olive Branch, I was under the impression that food and entertainment was all Bluff City had to offer. The negative elements seemed to overshadow anything leisure. But the 36 miles of forrest-wrapped trails near this wetland section of the Mississippi River is definitely worth a look.
In this urban escape, the landscape and natural bodies of water are peaceful and refreshing. I could see myself setting up nearly anywhere with minimal distractions. Even recording organic sounds for future production projects would be rewarding. A tranquil setting like this really works to my advantage as a videographer. Clients are often more comfortable and confident. This helps them be themselves. 
Like other Memphis locations, the bridge architecture here is pretty cool too. The wood slats, cable suspension and fabricated designs are definitely something I look forward to filming. Even the details of pathways, barriers and seating options are unique. You can tell everything was mapped out with flooding in mind. It kind of gives the Wolf River Greenway an aura you can feel. 
4. The Peabody Hotel & Rooftop.
I'm sure I would have to get some permission to shoot inside this immaculate display of architecture, but it would be worth it. There is so much history throughout The Peabody. From the grand entrance to the enormous fountain, balconies, fixtures and ceilings – this place is the real deal. The rooftop signage is something I wouldn't be able to ignore. Honestly, I'd like to help them redo all of the media on their site. I don't think it does the place justice!
In order to develop a purposeful video here, it'd take some serious focus and creative direction. But I'd be up for the challenge – even if I had to book a room or two to make it work! It would be a blast to set up a shoot for a wedding, event or simple promo at The Peabody Hotel. Neighboring buildings would also provide me with some amazing perspectives that highlight Memphis in general.
5. Fire Museum of Memphis.
Although it's barely in my top 5, this Museum is one of my favorite Memphis locations. Built in 1910, the preservation of the building and everything in it is impressive. If you get a chance to drive by, the sign is one of the best in the city. I'm not sure if the property itself can be filmed on or in (for profit), but there is certainly enough worth capturing outside. 
The building is exactly what a classic firehouse should look like. The entrance can be captured from multiple vantage points and the gated courtyard is decorated with bricks and a wall monument you can't ignore. I love everything about the space and hope to shoot video there soon.
6. Big River Crossing.
Out of this entire list, this is the only spot with open space along the bank of the Mississippi. Aside from the view and room to stretch our legs at, the surrounding parks each offer something unique. The architecture hardscape is a little more modern at Tom Lee while the pathways of Ashburn-Coppock and Martyrs Park offer a more scenic view. E.H. Crump Park is a little more densely wooded and Chickasaw Heritage has more stuff for the kids to do.
The crossing itself is what I'm really excited about filming. Whether I'm driving across, walking in front of a subject, or flying the drone, it's an amazing view. I could see myself setting up anything from an informative video to a Mississippi spotlight reel that highlights the coastal parks. At some point, I'll make my way over there and spend a half day at Big River Crossing.
7. Rhodes College Campus.
Since moving to the Midsouth, I've been meaning to stop by a few college campuses to interview students about the different ways certain events make them feel. I haven't finished writing the questions yet, but I did get a chance to notice how beautiful the campus at Rhodes College was. The elegant display of buildings and upkeep of the property is unlike any university I've ever been to.
From the layout to the courtyards, monuments and fountains – everything seems cohesive and in order. The atmosphere the institution provides has been recognized on several occasions throughout the years – which makes it one of the top Memphis locations, in general.
8. The Famous Beale Street.
I think one of the main reasons I'm excited to film here is the ability to capture crowds. There are always a lot of good reactions and candid moments that can really turn out a solid reel. From business interactions and laughter to iconic storefronts and live shows – there's a lot of content to be had at Beale Street. 
Since there tends to be a lot of foot traffic, it's probably not the best place for an informative video. But if you're a business on the row, you might benefit from some testimonials and live footage on a busy day. Showcasing the culture or atmosphere of any joint is a good way to stand out on a competitive strip. It's the little features that 
I'd really like to get some rainy day footage of the signage, monuments, and roads and sidewalks. I can already envision a soaked neon glow and water flowing over the bricks and into drainage. Once the sun comes out, I'd like to see how long it takes for the streets to be full. Whether it be a time lapse or compiled B-rolls, I think the transition would be cool to watch.
9. South Main Arts District.
I think this one is pretty straightforward. Although South Main is a little bit more edgy than Summer Avenue, it's honestly what I like most about it. It really makes the slew of artistic designs pop. The classic buildings, cultural value and level of creative expression really embodies the city of Memphis. But unlike most of these Memphis locations, this setting typically only suits a specific type of clientele.
Not everyone is going to make sense (or feel comfortable) in front of worn down mortar, colorful statements, or a graffiti'd wall. But don't write it off before you PreFocus on the possibilities. With a little trust and creativity, we can always make something worth. Once I familiarize myself with the district and stay on top of artistic updates, it'll be a great spot to reference.
10. Mud Island River Park.  
Just down the river from Big River Crossing is this gem of a good time. The Mud Island River Park is well-maintained, full of smiles, not too packed – and the tributaries would look great from the air. As a videographer, you never know when a spot like this is going to come in handy. So I'm glad I have it in my back pocket for that special client that needs to communicate something specific. A setting that elicits playfulness and personality is never a bad idea. It's definitely not one of those basic point-and-shoot locations and would give me a chance to get really creative with the production.
11. The Lorraine Motel.
Anyone looking to promote Memphis roots ought to consider this historic location. Also known as the National Civil Rights Museum, The Lorraine Motel offers an array of placements that can communicate a number of things. Videography here reiterates the impact of standing for something bigger than ourselves, collectively. I already have tons of ideas flowing through my head to pay homage.
Looking up at a subject as they walk passed the legendary sign would be simple, yet meaningful. A slow motion camera rolling by a person in awe (and consideration) of the moment-in-time could be powerful. If someone hired me to shoot video in front of this significant landmark, I wouldn't take the creative direction lightly. Taking advantage of a classic setting is selfish.
If we're not creating a video that pays homage to those that stood for something bigger than themselves, then what are we really doing? In other words, I'd only be interested in capturing footage at this Memphis location with the right client. It would only be an honor to help someone depict the scene in a classy, responsible manner. 
12. Confederate Park and its Bridge.
It might seem a bit odd to follow up the Civil Rights Museum with a confederate landmark, but history is history. Every man and woman had a rhyme or reason for their fight. It's our duty to understand their stories in order to protect the future of ours. Simply put, there are just too many props and creative visuals to be ignored at Confederate Park in northeast Memphis, Tennessee. 
A lot has changed on the plot of land over the years, but most of the original architecture has remained. Like other buildings on this list, the landscape would add a little edge to a production. The hills, stone walls, flowers and canons offer a little bit more. As you can tell by my list, I kind of have an affinity for bridges. But I'm really excited about some of the angles I can film on the pedestrian bridge at this location.
13. Dixon Gallery & Gardens.
If I'm not filming at the Grotto, the next best spot has got to be the Dixon Gallery and Gardens. It's one of the few Memphis locations that offer a ton of natural backdrops in one place. Every event and exhibit offers something different, drawing in all kinds of crowds. I could see myself shooting video for anything from a birthday party to a personal branding promotion. The elegant display isn't too distracting and the layout, ideation and creative display is unmatched in Bluff City.
14. I Am A Man Plaza.
When I first stumbled across this location, I didn't think it had a lot worth capturing. I'm sure the huge, "I Am a Man" monument is often used for the wrong reasons. But once I saw the building and its stained glass, I realized this place had some gnarly vantage points. Although it's a small area, the building architecture is stunning. The design of the black wall of names, and how it slopes down, gave me tons of ideas.
The plaza is a space that could work for a number of production projects – with respect to the workers of course. But I'm really looking forward to flying my drone here. Scaling the stones and steeple with hand controls before descending into the grassy area would create some really good aerial videography. A slight turn would enhance the curves of the hardscape.
15. Beale Street Landing.
This is another one of those Memphis locations that offers something a little different by the water. In contrast to Big River, this area has a wide variety of backdrops and seating options in close proximity. The vast amount of steps, sleek architecture and lighting offers something a little bit different. I could see Beale Street Landing working out well for about videos, personal branding or even product demonstrations.
I'll have to swing by during dusk to check it out. I hear some of the events here are pretty cool. Whether I'm getting paid or not, community gatherings are always fun to film. I also heard that the Hu. Hotel is solid location to set up a video shoot. Apparently, the views from the rooftop are pretty stellar. Since it's just up the street, I'll include it here. 
16. Overton Park Amphitheater. 
After listing all of these parks, I was hesitant to add another. But it's always good to have a variety of options in mind for different types of clients. Although the natural landscape at Overton Park isn't overly appealing, the custom created amphitheater (or shell) offers a unique background you won't find elsewhere.
Filming the sloped rows, bleacher angles, on-stage perspectives and dashes of culture can really make a simple production stand out! The city actually does a great job with maintenance and the Veterans Plaza is pleasantly surprising.
17. Memphis Riverboats.
The last of my Memphis locations to film would have to be one of the most prominent docks in the city. For more than 150 years, this place has been running riverboats, amongst other things. The history itself is worth capturing. I also wouldn't mind shooting some video for a private charter. If you're paying around $7K to book the boat for an event, you might as well capture all the fun!
I should ask Mr. Lozier if they company is working with a media company to offer this type of service. While it's not at the top of my list, it's certainly one of those local spots that communicate more than visuals. For the right client, this cool be a great location for filming video.