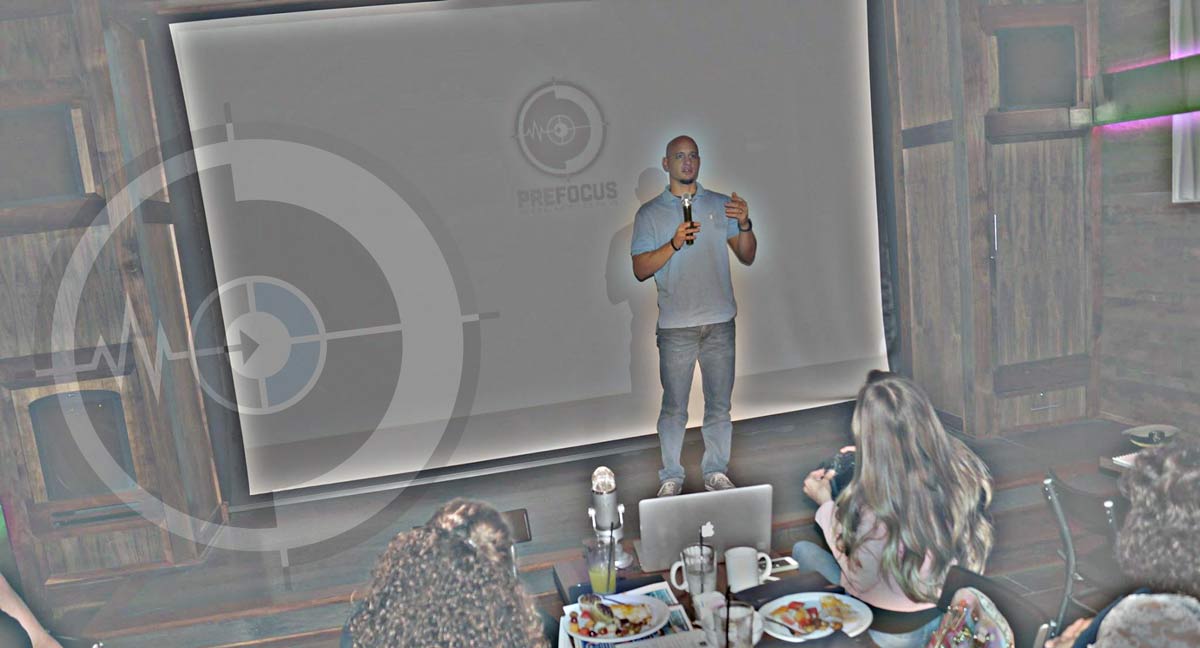 Now that I'm situated quite well just south of Memphis, I'd like to start talking about the effort I've put into my branding workshop. Helping business owners enhance the way they present and position themselves is an absolute passion of mine. Since 2007, I've been banging the table over authenticity. The problem is, many business owners just don't understand the value of seamless brand identity. They simply want to hire an aggressive marketer that can drive immediate sales. But a long term return is far more rewarding.
Not only does a quality developmental process improve company certainty, but also the way the brand is perceived. Consistency and intention speak louder than sales pitches, So, if you're in the market for a guest speaker or a detailed branding workshop, I'd love to help! Although I'm hesitant to share the details of my process, I'm hoping this outline inspires other marketers to be more creative with their clients. At the end of the day, I'm tired of fixing low quality campaigns and concepts. Business owners deserve better.
No matter who I'm presenting to, we have to go over the basics. If you have any questions or comments, please shoot me an email!
What is Branding, Exactly?
Business Dictionary

says..

Entrpreneur.com

says..

To me, branding is every identifying element of the business – How it looks, acts, communicates and responds to the market/consumers and makes them feel.
What are the Four Keys to Quality Branding?
Authenticity – who you truly are, your values, competencies and promise.
Relevancy – making sure what's important to customers is visible to them.
Consistency – staying true to your identity on all channels so you're recognizable.
Commitment – keeping promise(s) by training & enforcing standards for employees.
Why it's Important to Understand Ideal Customers.
Branding is responsible for speaking to your target audience in every way.

It's easier to develop (a) promise(s) when you know how customers think, feel and desire.

Branding is meant to streamline your marketing efforts with cohesion in mind.

If you want a loyal following, you must know how to garner their trust.

Reaching outside of your audience is wasteful and impacts perceived value.
How To Get Started on Customer Personas:
What are the stated wants and needs of your target audience?

How do you plan on serving them?

How is competition addressing these?

What are the hidden wants and needs of potential customers?

How do you plan on serving them?

Is any other company leveraging these?

Identify demographic, geographic, behavioral and attitudinal characteristics.

Create 3-5 specific personalities that you'd like to target.

Create 3-5 specific personalities that might be interested in you

No matter what you do as a brand, cater to these ideal personas.
How to Define Your Branded Culture:
What exactly does culture mean? Harvard has an interesting take.

(?) What does brand culture mean to you? 

How do I see brand culture in today's marketplace?

Determine the answers to these questions:

(?) How do you define and describe leadership? Stakeholders?

What qualities and characteristics are you looking for to lead your brand?

Who are your ideal partners or charitable organizations and why?

(?) What types of employees are you looking to target and why?

(?) What does a "moldable" employee look like to you?
How will you communicate brand standards (Ie: on-boarding and every touch point)? 
How might you implement and enforce new standards in an outdated culture?
Who can you identify to monitor brand standards (champion, advocate, cheerleader)?
(?) What could you achieve with a precise hiring process, shared vision and purposeful culture?
The Actual Elements of a Brand.
(?) What is the first thing that comes to mind when you think of branding?

(?) What do you think are the key elements of a brand? Most important?
Brand Values and Drivers.

Why you started statement? Your purpose and origin story.

What event actually caused you to get started?

What are you looking to uphold? What's your true intention?

What do you plan on doing differently? How's it benefit the customer?

What is your core promise to the market?

(?) How do you know if the "promise" you're making is the right one?

Case studies

Market research or complaints by competitors

Where does opportunity exist and why?

Questionnaires/poles

Post purchase surveys

This section comprises your company overview, vision and mission statements.

Brand Identity or Company Personality.

Human-like characteristics that define value and provide clarity.

Something original and authentic that direct consumers can relate to.

Ask yourself if you're branding an expertise or a definitive value?

(?) Try to give your business 3-5 unique adjectives. Do you know?

Sincerity, ruggedness, excitement, competence, and sophistication.

(?) Does your brand persona makes sense or align with provisions?

Making sense (or meaning something) to you doesn't always resonate.

Good Example: Michael Kors.

Upper class, glamorous, and trendy.

Promotes products at aspirational events, landmarks or moments

Bad Example: Uber

No connection with users and only drove home a need.

The face of the brand was a jerk – like they're Pacman logo suggested.. Eek!

Why is a Brand Identity or Persona Important?

It keeps all marketing and sales channels cohesive – saves money.

Creates clarity and allows people to identify with a business.

Many people will support you subconsciously because they can relate.

An identifying persona enhances recognition (talk about that shortly).

Knowing who you are streamlines design elements and messaging.

Making a Brand Name for Yourself. 

Reflect values and purpose

Create association with the brand persona

Easy to say and understand

Unique and memorable

Before solidifying, communicate name with associated value and purpose.

Ask for feedback 

How to Create Tag-lines and Slogans.

What is your definitive value proposition or best promise?

How can you formulate it in a unique and simple way with clarity?

What type of jingle, verbiage or tempo would intrigue an ideal customer?

Think it through as most brands don't solidify these right away.

Understanding a Brand Style Guide.

Everything discovered above should be considered.

Ie: Sincerity, ruggedness, excitement, competence, and sophistication.

Color Palette

Featured color, secondary color, etc..

Visual combinations.

Typography

Which fonts communicate your brand personality best?

Accessibility for designers and web developers.

Logo Design

Consider what the brand stands for.

Even if it's meaningful to you, it needs to make sense to customers.

If ever in doubt, ask for feedback and keep it simple.

Determine specifications, uses, lockups and save all files.

Unique Characteristics, Icons and Additional Identifiers (abbreviations).

Writing Style and Tone of Voice.

Informative, educational, authoritative, encouraging, direct, etc..

What is the main purpose of content (end goal)?

Will you use different voices for different purposes?

Who would narrate a commercial or radio ad and why?

What are common words you'll use throughout communication?

Good and bad examples.

Imagery and Illustration Guidelines.

Editing style (black and white, high contrast, colorful, etc).

Perspective (panoramic, 1st person, etc).

Image graphics and colors (placement and sizing).

Print Design Layouts or Templates.

First impressions like business card designs.

Brochure/flier guidelines,

letterheads and marketing materials.

Large format printing and banners.

Digital Design Elements.

Website design, purpose and functionalities.

Email templates

Social media style guides

Media guidelines, titles and graphics

Product Packaging

Functional role

Messaging and reasons to believe

Personality embodiment 

Employee Wardrobe and Presentation.

ID's and branded attire.

Dress code or boundaries for wardrobe liberties?
Are you looking for strict cohesion or individuality?

Store Design and Customer Experience.

Flow of the experience and outdoor specifications.

Ideal features, possible concepts and customer input.

Consider every touch point, even the online experience.
(?) What can you do differently to establish a memory?
Brand Awareness and Driving Recognition.
Before diving into a marketing strategy for an established brand, we have to understand every phase of the customer cycle.
General Awareness

Needs Recognition

Informational Search

Evaluating Alternatives

Purchase 

Post Purchase
From here, we can start to uncover the ideal position. But first, let's talk a little bit about promotability. You can't just assume every consumer will salivate over your business.
What is Brand Recognition?
Being known or recognizable through a design, voice, jingle, imagery, icon, character, etc..

Example: "Nationwide is on your side." Nike can be any color combination. Pillsbury Dough Boy.

Brands can also be known for quality, reputation, reliability, consistency, good time, etc.
The Benefits of Brand Recognition:
Peace of Purchase – people buy from a known/trusted source. Price isn't as important.
Known for Value – consumers understand who you are and why you are. Clarity.
Recruiting Talent – people are drawn to a household name. Better options.
Lower Turnover – employees tend to want to be a part of a recognized entity.
Support Esteem – easier to attract partners/sponsors. Sought after more.
Lower Spending – loyal customers don't need to be marketed to as much.
How to Communicate Your Brand Promise(s).
Now that everything is solidified, you must determine how to market the brand.

Why do you want to communicate?

Make an announcement or recap

Discuss about features or benefits

Promote something in the future

Expand on or reinforce brand promises

Build tactful awareness by stating facts or promoting data.

What Are Your Brand Drivers?

Functional – The basic job the brand does.

Emotional – How the brand can make people feel.

Economical – How the brand saves time or money.

Self Expressive – How the brand makes users appear to others.

Societal/Environmental – How the brand impacts both.

What Does Your Positioning Strategy Look Like? 

Short term is more tactful with clear value propositions.

Long term is more strategic towards awareness and loyalty.
Rebranding Preview
Normally takes care of all the steps you've initially missed.

Many specialists do this for design elements despite a deeper rooted issue.

Rebranding is more difficult, frustrating and expensive..

Re-implementing standards for clients and employees.

Updating designs and reprinting – wasted spend.

Reconfiguring the workplace, implementing new standards or procedures.

If perception and image are ruined already, will a makeover even work?

Most designers will not be honest about this.

If you're investing in a rebrand for the wrong reasons, the cycle will ensure.

Start from the ground up and it'll all come together in confident fashion.
Quality Branding Workshop and Training Events.
Since I launched my business back in 2016, I've been passionately trying to educate business owners on the perks of a sound strategy. No matter how you look at it, perceived value always depends on a sensible brand identity. Building one takes a lot of work. But for those of you that are committed to the process, and essentially your customers, it's well worth it in the end. Just remember, clarity and certainty are everything.
If you ever want to spitball about your brand and it's position in the marketplace, let me know! I'm always up for a good conversation and your first consultation is always free! Best of luck in the longterm!