Organic SEO Development
Some business owners are intimidated by search engine optimization for a number of reasons. Not only does it require above average organization skills, but it's hard to decipher an effective process that's effective across multiple industries. Often times, a strategy that works for one brand may not work for another. At the same time, adjusting minor details in your web presence can drastically improve your domain rank and overall reach. This is why we decided to provide specific organic SEO developmental services that address relevant needs that impact current performance. It's not always necessary to invest in a full-fledged SEO strategy, so allow us to help you allocate the best solution for you!
Back to Services
Request PreFocus SEO

Keyword Research
Uncover potential with relevant search terms.
View Competition
Revise your SEO in order to stay competitive.
Citation Listing
Ensure all of your off-site listings are cohesive.
Link Building
Relevant linking with anchor text.
More about Strategic SEO Services with PreFocus
Details regarding search engine optimization analysis and implementation strategies.
Auditing Your SEO.
Search engine optimization audits begin with an analysis of your website. In order to identify opportunity, we spend extensive time examining every service page and it's correlating keyword performance. Sometimes, high volume search terms aren't the best option, so uncovering long tail and branded phrases are key to driving relevancy.
Although keywords play a big role in SEO, it's important that we consider the user experience. This includes internal linking, back linking, sourcing, and even navigation. Once we solidify your site structure, we can begin analyzing your social media, citation, and back link strategies. Our SEO solutions allow you analyze any aspect of your SEO.
SEO Implementation Strategy
When implementing a new SEO strategy, we start from scratch and begin identifying your market and the customers that populate it. Although there isn't a definitive process that solves all of your pain, there are plenty of ways to address poor performing websites and landing pages through proper optimization. Taking the time to research opportunity allows you to implement a purposeful SEO strategy that defines the value you provide. Formulating unique title tags and meta descriptions tells search engines that you're prominent in that area of expertise. Duplicating competitive keywords with hopes to overcome handicaps your ability to reach your targeted audience. Allow us to develop your niche through extensive research and purposeful optimization.
Find out how our free analysis can impact your rankings!
Organic SEO Development Process Details
With a balance of high volume and niche-focused keywords, we can drastically impact your ranking and brand reach.
SEO starts here.
Sifting through hundreds of different keyword variations plays a big role in improved search rankings. SEO isn't a simple step you just plug into – it takes patience and organization. When researching the market, we want to understand what direct competitors are doing and how we can combine several popular phrases to overcome them.
My SEO solutions include the exclusive use of Google Adword's Keyword Tool. This tool allows me to understand the search volume (monthly search average), competition (how many sites use it), and the average cost per click (bid pricing) of every variation.

Grouping Our Terms.
Grouping keyword findings together allows us to eliminate search phrases that don't necessarily align with your brand and it's products or services. This is where an SEO strategy comes into play. Catering to your audience starts by identifying substance behind keywords. In other words, we want to uncover terms that relay definite search intent. Broad inquiries can equate to a multitude of different consumer intentions and we shouldn't waste time and money to simply increase bounce rates.
Categorizing your keywords helps determine how we want to label each of your landing pages. As I research similar variations, I focus on allocating and organizing needs verse desires. Typically when someone wants something, they don't necessarily need it. This is where I'm able to differentiate blog content topics from service and product page titles. Understanding this is key.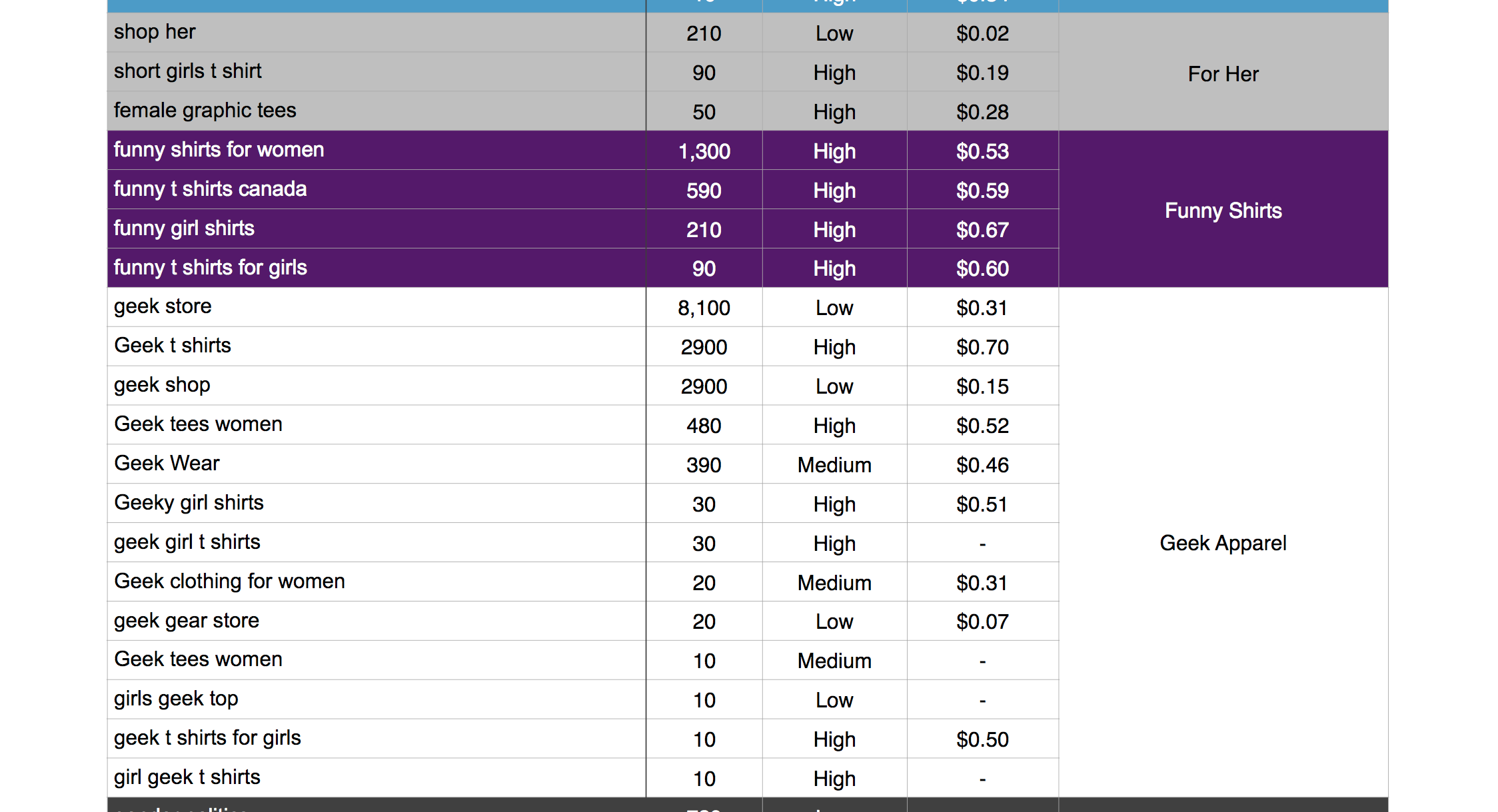 Preparing a Website for SEO.
Mapping out a website is crucial during the developmental phase. Before you begin building anything, I think it's important that you solidify the focus keywords of your site map. Often times, I'm able to generate new service through search volume.
Organizing our final selection of keyword groupings can eliminate headaches during transitions, maintenance, or updates. My SEO strategy includes complete documentation of the entire process and enables transparency on implementation. Building a website includes an array of moving pieces and having all SEO copy in one place can be huge.

Request Help with Your SEO Strategy
Organic SEO Development FAQ's
Uncovering more specifics about our unique approach towards SEO building.
Still unsure of what you need to accomplish?
SEO solutions and on-page copy go hand-in-hand. Feel free to visit our content development page for more information.